Welcome Guests
Welcome in the name of the Lord Jesus Christ.  We look forward to having you worship with us!
Looking for a new church home?  Talk to any congregation member about your questions, concerns or comments. Also, please feel free to contact the pastor or call the church office at (703) 777-4912.
Facilities are Handicapped accessible.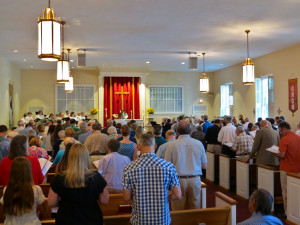 Regular Sunday Worship Schedule
Sunday Morning Worship:  
9:30 am ~ Sunday Worship with Holy Communion
10:45 am ~ Christian Education & Fellowship Hour
Nursery Care Provided during Worship 
Location
Holy Trinity Lutheran Church is located at 605 West Market Street in Leesburg, Virginia, 35 miles west of Washington, DC. We are on the west side of Leesburg at the intersection of Catoctin Circle and Market Street.
A Message from the Pastor
Dear Brothers and Sisters in Christ: I have been overwhelmed with the greetings and enthusiasm that I have experienced in my first week here at Holy Trinity. Ok, one would expect that people would greet me and say something nice, like, "We are glad you are here." But that is not what I am hear
[...]