Welcome
Welcome in the name of the Lord Jesus Christ.  We look forward to having you worship with us!
Looking for a new church home? Please feel free to contact us at (703) 777-4912.
Facilities are Handicapped accessible.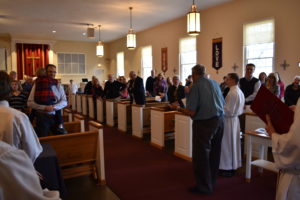 Regular Sunday Worship Schedule
9:30 am ~ Sunday Worship with Holy Communion
Nursery Care Provided during Worship 
11:00 am ~ Sunday School for ages 3 thru adult
Christmas Eve Services
5:00 pm Children/Family Service
7:00 pm Candlelight Service (Nursery available)
10:00 pm Candlelight Service
Location
Holy Trinity Lutheran Church is located at 605 West Market Street in Leesburg, Virginia, 35 miles west of Washington, DC. We are on the west side of Leesburg at the intersection of Catoctin Circle and Market Street.
A Message from the Pastor
The Gospel of Luke starts with a couple of stories of the prequel to Jesus' birth narrative. These stories highlight the astonishing power and presence of God in setting the stage for Jesus' birth. We see that individuals were shocked by visits from the Angel Gabriel as he reveals the master plan of
[...]