Welcome Guests
Welcome in the name of the Lord Jesus Christ.  We look forward to having you worship with us!
Looking for a new church home?  Talk to any congregation member about your questions, concerns or comments. Also, please feel free to contact the pastor or call the church office at (703) 777-4912.
Facilities are Handicapped accessible.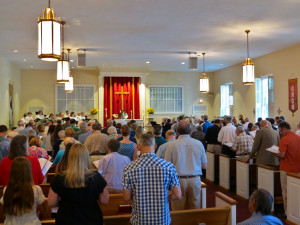 Regular Sunday Worship Schedule
Worship During the School Year:  
8:30 am and 11:00 am ~ Sunday Worship with Holy Communion
9:45 am ~ Sunday School for all ages
Nursery Care Provided at 11 am service
Christmas Eve ~ December 24, 2016
4:00 pm - Family Friendly Worship with Communion
7:00 pm - Worship with Communion, Children's Choirs, Festival Musicians
11:00 pm - Candlelight Worship with Communion, Chancel Choir, Festival Musicians
Christmas Day ~ December 25, 2016
4:00 pm - Service of Prayer
No Morning Worship or Sunday School
New Years Day ~ January 1, 2017
10:00 am ~ One Service of Lessons and Carols  
No Sunday School
Location
Holy Trinity Lutheran Church is located at 605 West Market Street in Leesburg, Virginia, 35 miles west of Washington, DC. We are on the west side of Leesburg at the intersection of Catoctin Circle and Market Street.
A Message from the Pastor
Meet John the Baptist today and he would probably creep you out. You might even think he was crazy and in need of medication. Really strong medication. But not to the people who were flocking to see him in the first century along the river Jordan. He was a standard issue, first century prophet
[...]