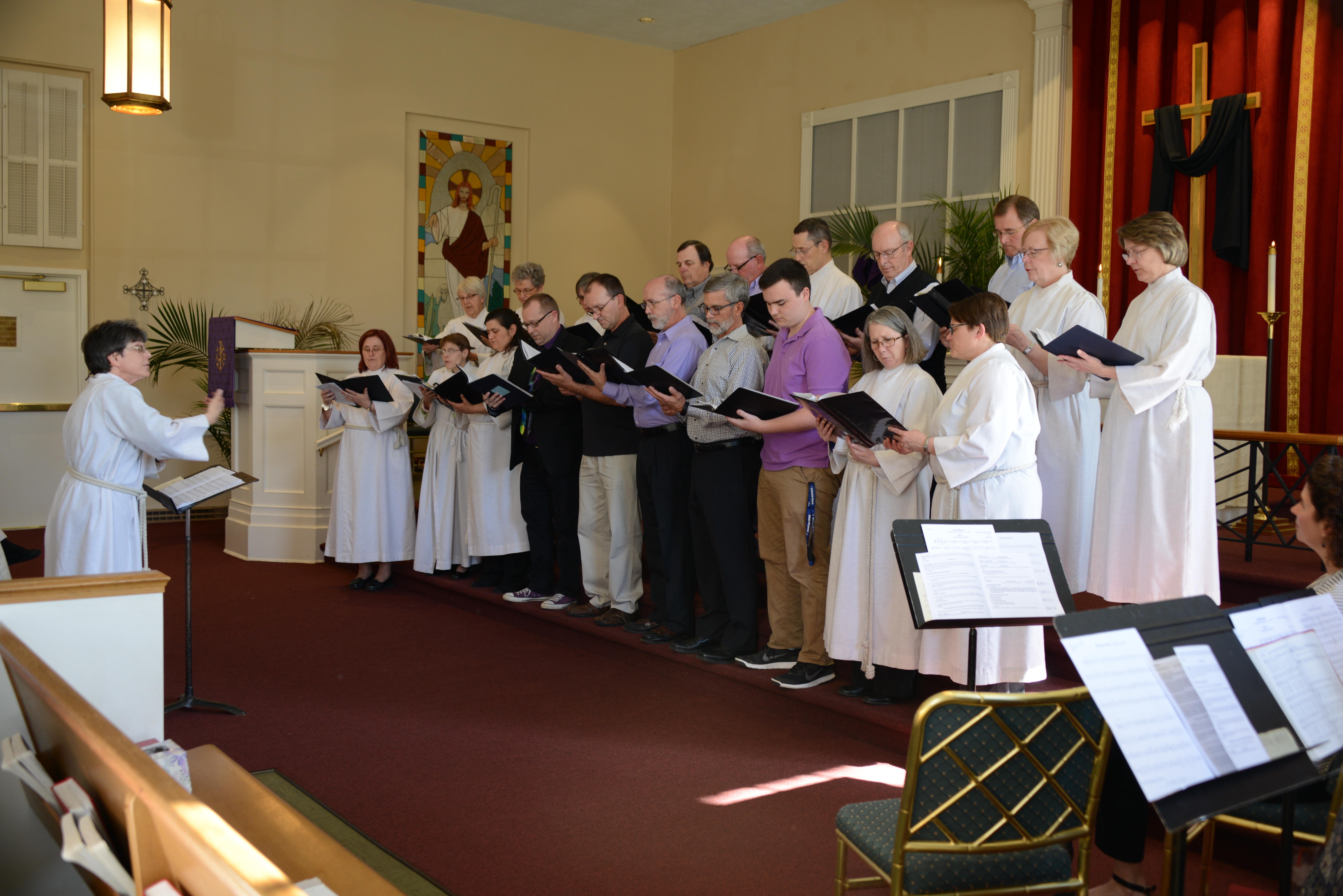 Dear Brothers and Sisters in Christ:
I have been overwhelmed with the greetings and enthusiasm that I have experienced in my first week here at Holy Trinity. Ok, one would expect that people would greet me and say something nice, like, "We are glad you are here." But that is not what I am hearing. People are talking to me about their hopes and dreams and what we could do and be as this mission of Jesus Christ in Leesburg. You all have greeted me with excitement and eagerness in a way that makes me feel that this has all been worked out already. To say this another way, the Holy Spirit is somewhere in this process of transition, and truth be told---I am so glad to be here to be a part of it!
So, I had a little epiphany that I want to share with you. As you know, I was here in 1997 with Pastor Wuebbens. As a parting gift, he and Anne gave me a calligraphy picture of the first line of Psalm 100: "Make a joyful noise unto the Lord." Both Pastor and I enjoy music, but that was not a big thing for us to share. So, the selection of this psalm was a little strange, but maybe it was the best-looking picture or he picked it for some other reason besides the joyful music message. I have always had that picture in my church office to remind me of him and my experience at Holy Trinity.
Then when I got the picture out to put it on the wall (Please come and see it!). I stopped in my tracks. It didn't say make joyful music – it said make joyful noise.
What if the noise is not meant as music? What if it meant make a sound – make a difference – create some- thing that shares God's glory – JOYFUL NOISE!
Suddenly that was not just a psalm anymore – it was a prophecy. We need to make joyful noise. I am so impressed with the skills and talents of the people here, especially the staff. I am so impressed with the devotion – you guys installed your own pipe organ. My goodness you have fire here. We have been making joyful noise and we are called to continue to make more joyful noise. To me that means that we need to make a difference in our lives of faith and in the lives of faith of others, the families in our preschool, the young adults of our families, our neighbors, Helen and Joe (from the sermon), our community, our schools, and whoever else God puts in our path. We need to make a difference.
I am so excited with that charge. I am excited to talk to the preschool families. I am so excited to visit aging members. I am so excited to talk to people in our community. I am so excited to connect with people that I knew for a year, twenty years ago. I am so excited to have the opportunity to do cottage meetings (meeting of a group of people in someone's home for me to listen to their hopes and dreams). I am so excited to plan a Church Council retreat. I am so excited and energized with every meeting and conversation I have with the ministers (staff and leaders) that I share God's ministry here at Holy Trinity.
"Make a joyful noise to the Lord." Yep. We will do just that. We are on that already. Thank you for allow- ing me to be a part of something so exciting! The Holy Spirit is with you – I feel its presence. More joyful noise is on the way!
Pastor Gerry Johnson