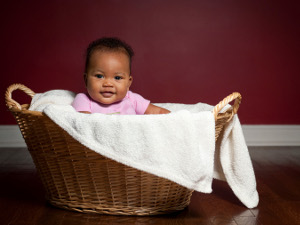 Children from birth to aged three are enrolled upon Baptism into HTLC's "Cradle Roll."   The Augsburg Fortress Splash! faith formation resource is used as a tool to connect the congregation with our families with young children.  Each month, Parent Pages are mailed to the family home.  These pages offer ideas for faith-filled play, worship, meals, and prayer together.
Once a year Cradle Roll families receive a music CD appropriate to their child's age.  Babies will be lulled to sleep listening to Sleepy Time Tunes, Families will get moving to the Bible story songs on Totally Toddler Tunes, and kids will learn songs they'll hear in Sunday school on the Singable Sunday Tunes CD.   
At age three, children are invited to join our Preschool Sunday School class, held each Sunday during the school year during the Sunday School Hour from 9:45-10:45am.